(includes spoilers)
This book review was written prior to this website transitioning to AI-written reviews by Buddy the BookBot. This review is the opinions of Kirstie, the human.
Time to come clean. I'm a Stephen King-whore. A bonefied buy-it-without-needing-to-read-the-blurb kind of gal.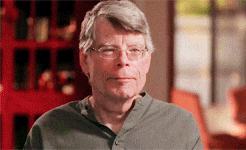 I feel like I bought this book with my eyes closed, trusting that it would be a good one. That hasn't always seen me through, as some of King's latest work ('Revival' for example) had been a bit of a disappointment. Still, I was looking forward to being able to get my teeth into this little novella. Just 132 pages in length, and with pretty large font, I read it comfortably in an afternoon – and I've been thinking about it ever since.
'Elevation' is a curious thing. It contains, as so many of King's greatest pieces of writing do, an extraordinary thing happening within an ordinary world. Scott Carey has realised that he has a strange and untreatable condition – that he is dropping pounds off his weight, without getting thinner. We follow Scott through his acceptance of his new reality, and how this acceptance allows him to interact with his often-ignorant, sometimes-cold neighbours (in Castle Rock, Maine, no less).
As I read the first few pages I realised that I'd been affected by this concept before. My favorite ever short film is called 'The Karman Line' (2015). It's just 20 minutes in length and it features the UK legend that is Olivia Colman. It tells the story of a woman who, one day, is raised off the floor by uncontrollable forces. She hangs there, no longer affected by gravity and completely immovable by her family, her doctors and anything else. It shows her as she gets more distant (literally) rising higher in the air with her worsening condition, towards the Karman Line (the boundary of space), and the effect it has on her family.
It's a beautiful, moving piece of cinema even if you didn't get the subtext (which I didn't as a young teen) which addresses terminal illness and how control is plucked from your fingers. If you haven't seen it, I HIGHLY suggest watching it. I've seen it 30+ times and it still makes me cry.
This novel follows a very similar track, though with King's usual flair. As the story unfolds, the reader realises just how much this extraordinary condition mirrors that of real illness – of preparation, acceptance, learning. Scott finds focus and peace in a marathon towards the end of the book, where his condition actually enables him to run quicker, catching up with the neighbour that he has wanted to support since he learned that she and her wife were being boycotted by the town homophobes, and quite literally lifting her up at the moment that she falls down.
A nice bonus in King's retelling of this concept is that Scott's friends are also affected by his condition. Any time they touch, they feel as though they're on a rollercoaster – stomach turning, heart-dropping movement is experienced as Scott's gravity-free existence surges through their own, untainted bodies. It is an interesting metaphor for the personal struggle of those who orbit the person who is dying, and how they are changed by proxy.
Despite being a novella, the story isn't rushed. It naturally unfolds through conversations and encounters and the one constant – Scott's numbers on the scale falling. At the end of it all, it is a story about love, community, acceptance (in more ways that one) and the experience of letting go. If you want a little cry and a bit of an emotional crises, I highly recommend 'Elevation'.
---
I've set myself a pretty lofty reading goal in 2020. Which books are first on your list to read?
Let me know in the comments!